Not many words have been spoken that encapsulate the United States so well as these four – and the same can be said of American Studies. This is exactly why E Pluribus Unum, the original Latin phrase, is the name our study association bears: EPU's main goal is to unite all American Studies students, both from the Bachelor and Master programs. By doing so, we can represent the entire student body in their interests, and provide them with ample opportunities to expand those interests. Of course, bonding among the students is a priority as well.

EPU was founded in September 1989. Through the years its principles have remained the same. Nevertheless, tradition has never stood in the way of innovation in the association. Regular aspects such as lectures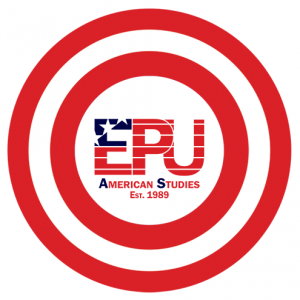 , monthly (themed) drinks, the introduction camp, and EPU's very own magazine (the American Studies Herald or ASH) have been supplemented with conferences, study trips abroad, and online ASH articles. With this vast array of activities, EPU has managed to create a cohesive body of enthusiastic American Studies students. Furthermore, EPU's book sale in cooperation with studystore.nl allows students to buy their required books at a special, low price.
For those that want to expand their own abilities, this is also a possibility: members can join one of our ten (and counting) committees, which allows them to actively participate in EPU. Not only does this look great on your CV, but it's a great way of getting to know fellow students!
Even if you're not in an American Studies program, EPU still invites you to join the 'many.' Non-AS students can join as a companion, which gives you the same advantages as regular members! This is a great way of staying in touch with the association after you've finished the program, or if you're just generally interested in the United States and its surroundings.