EPU has merch! if you feel like representing our association wherever you are we have some cool stuff for you.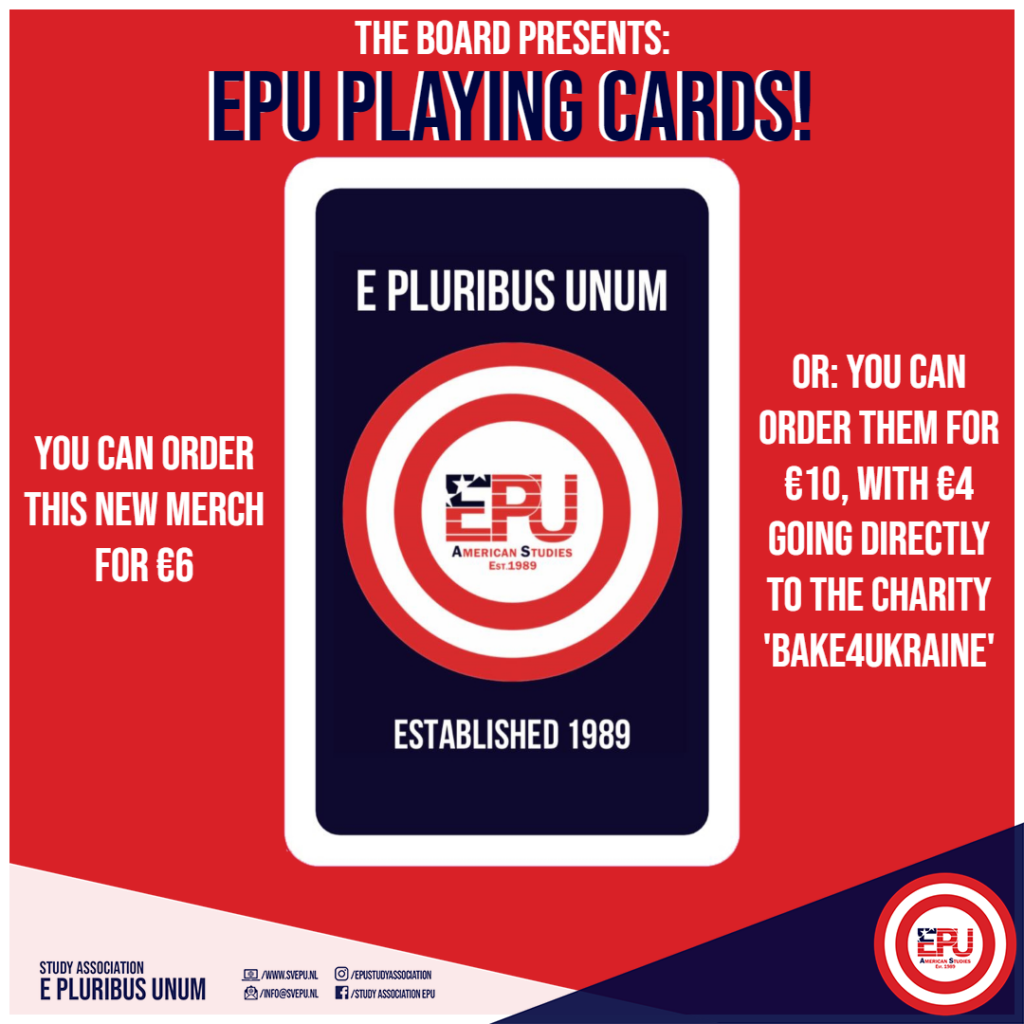 EPU Playing Cards | order here

Dear EPU-members,

As we announced during the second GMA, we present to you… EPU playing cards!

Normally, any proceeds we would make would go to a charity of choice. This year, we wanted to do things a little different given the state the world is in right now.

Due to the horrible invasion in Ukraine by Russian officials, many Ukrainian people are in need of help. Good friends of our dear Nienke started a benefit called: Bake 4 Ukraine. They prepare food for the people in need, for children's hospitals, and Ukrainian soldiers. We think this is an amazing initiative and we wanted to contribute to this, even how small it is.

If you want to know more about 'Bake 4 Ukraine' and what they do: https://fundly.com/bake4ukraine#

In the Google Form you can select two options:

– Buy the playing cards for the purchase costs of 6 euro,
– Buy the playing cards for 10 euro, with 4 euro directly going to Bake 4 Ukraine.

If you don't want to buy the cards but donate, or donate more, you can find a link to the initiative in the Google Form.

The cards will be delivered to us in a few weeks. We will have 25 games available, so get them while they last. In a week after your order placement, Dominic will send you an email with the payment details. As we want the proceeds to go to the Ukrainian people as soon as possible, thus not wait until shipment, you will receive the cards after the payment.

We would like to thank you all for your kind contributions,


The Board 💙💛
Other merch | order here
We currently also sell EPU water bottles (€6), Bottle Opener Key Chains (€2), EPU Tote Bags (€5) and EPU Face Masks (€6). All items are available while stock lasts.